In different ways two friends made this website possible.
I came up with "Spector soul" as I wrote a 3,000 word response to Andy Schwartz's request for a definition of blue-eyed soul for an essay he was writing for the 2003 Rock & Roll Hall of Fame induction ceremony program. Andy's a lifelong friend and my first supporter of Spector soul. His essay is posted here: http://theworldsamess.blogspot.com/2013/10/stupefied-andy-schwartz-playlist.html#more
In late 2008, I posted much more limited version of this website's text and discography on spectropop.com. Since then I've received scores of mp3 files from Anthony Reichardt. Without Anthony's support, my discography would be a shadow of what it is. Check out his library of songs on YouTube: http://www.youtube.com/user/reichardtaj?feature=watch.
Of course I'm so very thankful to all the lovers of this music who've posted Spector soul songs on YouTube!
Finally, I want to give special thanks to James T. Patterson, the Ford Foundation Professor of History Emeritus at Brown University. Although I don't personally know Mr. Patterson, as I've expressed to him via email, I'm grateful that he wrote The Eve of Destruction: How 1965 Transformed America (Basic Books, 2012).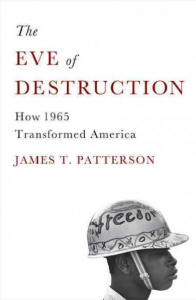 Below is my  assessment of how his interpretation of change in pop music in the mid-60s relates to my perspective on Spector soul.
Patterson's book reinforces and extends my analysis of the historical context for Spector soul. For example, in the second paragraph of Chapter 1, "High Expectations: America in Late 1964," he says, "If there could have been a nationwide soundtrack for late 1964, it would have been especially upbeat, featuring hit songs by the Supremes ('Baby Love,' 'Come See About Me'), the Beatles ('A Hard Day's Night,' 'I Feel Fine'), and the Beach Boys ('I Get Around')." Not only are all the songs upbeat, those by the Supremes and the Beatles are explicitly about the happiness of love.
Focusing on the twin escalations of racial conflict at home and the war in Vietnam, the book's subsequent chapters explain how the U.S. went from a peak of political liberalism and an upbeat culture as of late 1964 to become a very different country one fateful year later.
Regarding pop music, Patterson and I agree that it changed from 1964 to 1965. We also agree on the historical basis for the change. But we have different views about what best characterizes the change and when it occurred.
Patterson says, "Historians and music critics have suggested that powerful forces unsettling Americans at the time – notably racial tensions and popular fears associated with the Vietnam War – help explain the increasing popularity of loud and often harsh music such as that of the Stones and Dylan." (p. 147)
For Patterson, the important change in pop music occurred in mid-1965 and was in the sound (loud, harsh), like the Rolling Stones' "(I Can't Get No) Satisfaction" and Bob Dylan's "Like a Rolling Stone." These songs were recorded, respectively, in May and June 1965, and each was released in the following month.
Patterson doesn't recognize that a change in pop music had already taken place, which was in the lyrics. In early 1965, he says, "Feel-good songs – the Beatles' 'Eight Days a Week,' the Righteous Brothers' 'You've Lost That Lovin' Feelin',' and the Supremes' 'Stop in the Name of Love' – topped the charts. Like most pop tunes, these dealt with love and personal feelings, not with matters of national or international concern." (p. 103)
In other words, Patterson believes the national soundtrack in the first months of 1965 remained as upbeat as in late 1964.
The songs by the Righteous Brothers and the Supremes are, of course, anything but "feel-good." Although they deal with love and personal feelings, they do so in terms of the pain of love. As for "Eight Days a Week," it was recorded on October 6, 1964, but not released until February 15, 1965, and only in the U.S. It was included on the British album, Beatles for Sale, which was released on December 4. The eight original Lennon-McCartney songs on the album were recorded in the second half of 1964. The pain of love dominates Beatles for Sale: "No Reply," "I'm a Loser," "Baby's in Black," "I'll Follow the Sun," "What You're Doing," and the flip on the U.S. single, "I Don't Want to Spoil the Party." Only two Lennon-McCartney songs are about the happiness of love ("Eight Days a Week" and "Every Little Thing"). Furthermore, after "Eight Days a Week/I Don't Want to Spoil the Party," the Beatles released two 45 records in which the lyrics for both the A and B sides were generally feel-bad if not specifically about the pain of love ("Ticket to Ride/Yes It Is," and "Help/I'm Down"). Then their next single was one of the pain-of-love masterpieces of the era, "Yesterday."
What needs to be understood is that, by the end of 1964, the way in which pop tunes dealt with love and personal feelings was changing. Across a wide array of pop music styles, there was a substantial increase in songs about the pain of love. Pop music, like other forms of art, may not have often directly addressed "matters of national or international concern." However, at this time over and over again it indirectly did so. The turn away from upbeat, feel-good lyrics toward stories where romantic relationships are in crisis means that, through displacement, pop music was expressing anxieties about national and international events.
Spector soul is thoroughly representative of the changes in pop music that Patterson and I, respectively, describe. Spector soul emerged in late 1964, following the huge commercial success of "You've Lost That Lovin' Feelin'." This was same time as the beginning of the thematic change in pop music lyrics, from the happiness to the pain of love. As my discography indicates, the large majority of Spector soul songs are about the pain of love. That pop music became louder from 1964 to 1965, as Patterson says, is particularly applicable to Spector soul. A heavy wall of sound is, by definition, loud. And 1965, along with 1966, was the key period of Spector soul.
Although it was not his intent, among the accomplishments of The Eve of Destruction, James T. Patterson has provided a thorough account of the historical context for Spector soul. I'm very thankful to him.